English Heritage sites near Folkestone Parish
ST JOHN'S COMMANDERY
5 miles from Folkestone Parish
The flint-walled 13th-century chapel and hall of a 'Commandery' of Knights Hospitallers, later converted into a farmhouse.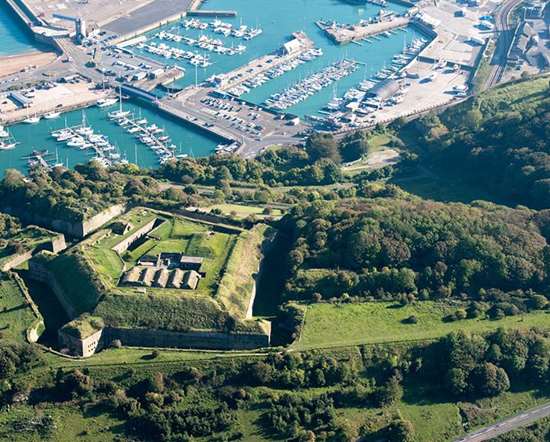 WESTERN HEIGHTS, DOVER
6 miles from Folkestone Parish
A huge fortification begun during the Napoleonic Wars and completed in the 1860s, designed to protect Dover from French invasion. Only the moat can be visited.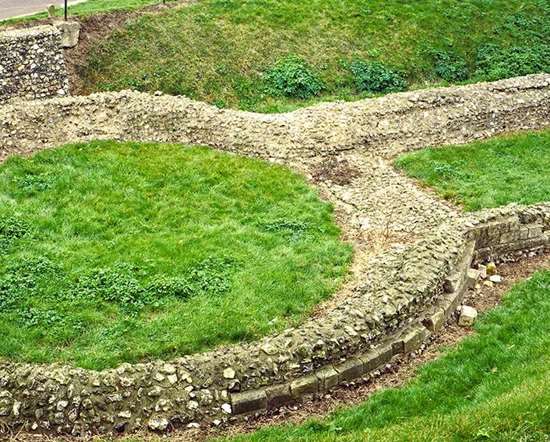 KNIGHTS TEMPLAR CHURCH, DOVER
6 miles from Folkestone Parish
The foundations of a small medieval church, traditionally said to have been the site of King John's submission to the Papal Legate in 1213.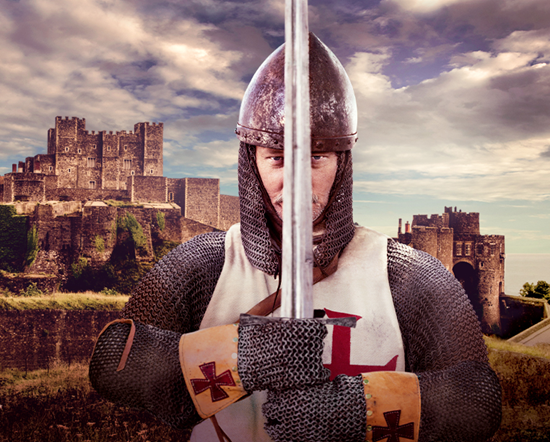 DOVER CASTLE
7 miles from Folkestone Parish
High atop the iconic White Cliffs of Dover sits the most iconic of all English fortresses. From the mighty medieval keep to the labyrinth of secret wartime tunnels below, a family day out at Dover towers above all others.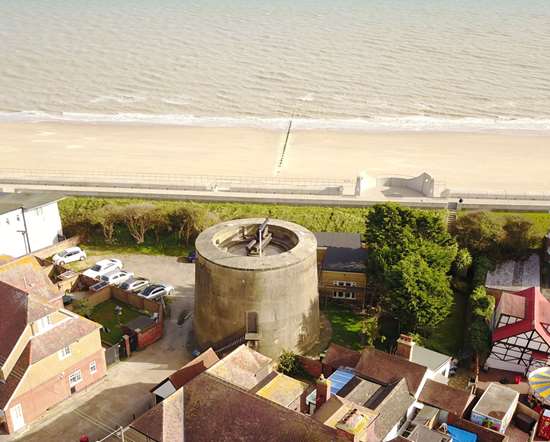 DYMCHURCH MARTELLO TOWER
9 miles from Folkestone Parish
This is one of a chain of ingeniously designed artillery towers built around the south and east coasts of England from 1805 to protect against the threat of invasion by Napoleon.
WALMER CASTLE AND GARDENS
13 miles from Folkestone Parish
Built during the reign of King Henry VIII and perched on the picturesque Kent coastline, Walmer Castle is one of the most fascinating visitor attractions in the South East.
---
Churches in Folkestone Parish
All Souls Church

Cheriton High Street Cheriton
07709 830220
https://cheritonbenefice.mystrikingly.com/


In December 2021 we welcome Rev Stephen Crofts as Priest in Charge
Folkestone: St Peter

North Street Folkestone Canterbury
(01303) 680441
http://stpetersfolk.church


St Peter's Church overlooks Folkestone Harbour and has been a focal point for the local fisherman and seafarers for over 100 years, and has close links with St Peter's School located on the same site.

We welcome you to come along and join us in our worship to God.
Holy Trinity Church Folkestone, Part of the Trinity Benefice

Sandgate Road Folkestone
01303 244299
http://www.trinitybenefice.co.uk/


Holy Trinity Church Folkestone is Part of the Trinity Benefice, Folkestone.

For full details visit the website

To contact our administrator use the details below:

Trinity Benefice Office

c/o St George's Church

8 Audley Road

Folkestone, Kent

CT20 3QA

Phone: 01303 244299

E-mail: [email protected]

Office opening times:

Mondays. 9.00am - 2.30pm

Wednesdays 9.00am - 12.30pm

Thursdays 9.00am - 2.30pm

Fridays 9.00am - 2.30pm



St Augustine

Dover Road Folkestone
01303 252947


This church does not have regular Church of England Services. Please refer to the parish church of St Mary and St Eanswythe in Church Street/The Bayle in the town centre. Services are held as follows:

Sundays 10:30 Sung Eucharist

Fourth Thursdays 10:30 Said Eucharist

All telephone enquiries to 01303 252947

email: [email protected]
St John the Baptist
St Martin's

Horn Street Cheriton Folkestone
07709 830220
https://cheritonbenefice.mystrikingly.com/


From 1st December 2021 we welcome Rev Stephen Crofts as our Priest in Charge.



St Mary & St Eanswythe

Church Street Folkestone Kent
01303 252947
http://stmaryandsteanswythe.org/


Vicar: Rev Dr John Walker, The Vicarage, Priory Gardens, Folkestone CT20 1SW email: [email protected]




Churchwardens: Mr Tom Bertram

Mr Andrew Plested 07860 175123 / [email protected]




SAFEGUARDING INFORMATION AND CONTACTS

Parish Safeguarding Officer: Kim Adlington 01303 627070 / [email protected]

The Diocese of Canterbury: https://www.canterburydiocese.org/safeguarding/

Kent County Council Social Services: https://www.kent.gov.uk/social-care-and-health/report-abuse

NSPCC: https://www.nspcc.org.uk/what-you-can-do/report-abuse/

Childline: https://www.childline.org.uk/




PARISH OF FOLKESTONE, ST MARY AND ST EANSWYTHE

Parish Child Protection Policy

The parochial church council -

* will comply with this Child Protection Policy statement of the Church of England

* accepts the responsibilities of the parish for all work with children and young people

carried out in the name of the church as set out in the House of Bishops' publication

"Protecting all God's children"

* will follow the procedures and guidance contained within "Protecting all God's children"

and diocesan child protection Guidelines

* will appoint a Child Protection Co-ordinator




The Child Protection Policy statement of the Church of England

The Church of England, in all aspects of its life, is committed to and will champion the protection of children and young people both in society as a whole and in its own community.

It fully accepts, endorses and will implement the principle enshrined in the Children Act 1989 that the welfare of the child is paramount.

The Church of England will foster and encourage best practice within its community by setting standards for working with children and young people and by supporting parents in the care of their children.

It will work with statutory bodies, voluntary agencies and other faith communities to promote the safety and well-being of children and young people.

It is committed to acting promptly whenever a concern is raised about a child or young person or about the behaviour of an adult, and will work with the appropriate statutory bodies when an investigation into child abuse is necessary.






St. George's Church Folkestone, Part of the Trinity Benefice

8, Audley Road Folkestone Hythe
01303 244299
http://www.trinitybenefice.co.uk


St. George's Church Folkestone is Part of the Trinity Benefice, Folkestone.

For full details visit the website
---
Pubs in Folkestone Parish
Beer Shop Folkestone

32 Rendezvous Street, Folkestone, CT20 1EZ
None
thebeershopfolkestone.co.uk/


Shop conversion to a specialist beer bar selling keg, bottled and canned products with usually one or perhaps two micro-brewery cask ales served from rear wall taps. Also available is a good selection of other alcoholic and soft drinks. T...
BIG BOYS fine Burger Bar
Black Bull

Canterbury Road, Folkestone, CT19 5NX
(01303) 256903
hungryhorse.co.uk/pubs/kent/black-bull/


Family friendly food oriented pub.
Bouverie Tap

45 Bouverie Road West, Folkestone, CT20 2SZ
(01303) 255977
thebouverietap.co.uk


This small pub located at the west end of Folkestone includes a basement restaurant and offers three changing local ales, a local cider and locally sourced food. The pub is decorated with interesting old posters and adverts along with an e...
Brewery Tap
Brickfield Cookhouse Pub

Cherry Garden Avenue, Folkestone, CT19 4AP
(01303) 273620
cookhouseandpub.co.uk/en-gb/locations/fo...


Built on an old brick quarry this pub/restaurant adjacent to the A20 and Premier Travel Inn. provides food all day with breakfasts from 6:30am Monday to Friday and 7:00am at weekends. A convenient location for a stopover for the continent...
British Lion
Cafe Corwch
Castle Inn
Chambers

Radnor Chambers, Cheriton Place, Folkestone, CT20 2BB
(01303) 223333
thechamberspub.co.uk


A spacious cellar bar with six hand pumps beneath a licensed coffee shop, beers include some from local breweries and at least two real ciders. A beer festival is held over the Easter weekend. Live music from 8pm, usually with free admiss...
Cheriton Bowls Club

Weymouth Road, Folkestone, CT19 4LS
(01303) 275334
bowlsclub.org/club/6713


Cheriton Bowls Club, Folkestone
Cheriton Oddfellows Club
Cherry Pickers
Clifton Hotel

Clifton Gardens, The Leas, Folkestone, CT20 2EB
(01303) 851231
thecliftonhotel.com


Comfortable Best Western hotel next to the William Harvey statue, overlooking the sea, bandstand and Folkestone's war memorial to the 19,000 British soldiers who died on the first day of the Battle of the Somme. Luncheons are served daily...
County Fayre
East Cliff Tavern
East Kent Arms
Finn's Gin & Real Ales
Firkin Alehouse

21 Cheriton Place, Folkestone, CT20 2AY
07894 068432
firkinalehouse.co.uk


Folkestone's first micropub from November 2012, with up to four cask beers - often including one from a Kent micro-brewery - and up to six ciders all served on gravity from a temperature-controlled cellar room. Also available from the displ...
Firkin Alehouse
Firs Club

Firs Lane, Folkestone, CT19 4QF
(01303) 270850
dynamixleisure.co.uk/firs-bar-lounge/


Public house part of sports club.
Folkestone Railway Social Club
Folkestone Sports Centre

Radnor Park Avenue, Folkestone, CT19 5HX
(01303) 850222
folkestonesportscentre.co.uk


Folkestone Sports Centre, Folkestone
Gillespies
Guildhall

42 The Bayle, Folkestone, CT20 1SQ
(01303) 251393
guildhallfolkestone.co.uk/


A welcoming, traditional single bar pub in Folkestone's historic Bayle area, a few minutes from the town centre. Built around 1848 as the Globe and renamed in 1987. Two regular and two or three guest ales from the Punch Finest Cask selectio...
Harbour Inn
Harvey's

10-12 Langhorne Gardens, Folkestone, CT20 2EA
(01303) 253758


The cellar bar of the Langhorne Garden Hotel is deceivingly spacious but surprisingly cosy especially with the real fire burning. Two bars with several areas for drinking or enjoying the popular good value lunchtime food. Three large screen...
Home Taproom

61 Tontine Street, Folkestone, CT20 1JR
(01303) 244666
fantasticbeer.co.uk


Originally opened on 29th April 2017 as the Troubadour of Kent being a micropub with a small raised stage area for poetry readings, poetry, storytelling and live acoustic music. After a short closure, it reopened on 25 January 2019 as the T...
Imperial
Jetty's Bar
Kensi's Bar
Keppels Bar & Bistro

The Grand, The Leas, Folkestone, CT20 2XL
(01303) 222244
grand-uk.com/keppels.html


Comfortable bar and bistro on the ground floor of the Grand, a former hotel dating from Edwardian times. The bar has a number of stylish light fittings, a piano that is played lunchtimes and evenings and is popular with the residents, local...
Kipps' Alehouse

11-15 Old High Street, Folkestone, CT20 1RL
(01303) 246766
kippsalehouse.co.uk


Kipps' Alehouse follows the general principle of a micro-pub, serving real ale directly from the cask. In this case from a glass enclosed and cooled steel stillage. Generally, the Alehouse has a local Kentish ale, a guest ale being an awar...
Lifeboat
Lord Morris
Mariner
Master Brewer

Perries Mead, Broadmead Village, Folkestone, CT19 5UD
(01303) 250903
masterbrewerfolkestone.co.uk


The epitome of a modern pub with a comfortable interior and friendly atmosphere in the centre of the Broadmead estate serving traditional pub food including steak and kidney pudding wholesome sandwiches and baguettes. Roast dinners are ava...
Morehall
Nailbox

74 Coolinge Lane, Shorncliffe, Folkestone, CT20 3QE
(01303) 253748
nailboxshorncliffe.co.uk/


A friendly local community pub built in 1867 as the Shorncliffe Arms, and was renamed the Railway Hotel in 1887. It quickly became the last watering hole for many soldiers billeted in nearby Shorncliffe barracks before they boarded trains...
Office Bar

Southcliff Hotel, The Leas, Folkestone, CT20 2DY
(01303) 850075
thesouthcliff.co.uk/the_office


Cellar bar opened in 2004. Next to Southcliff hotel entrance. Brightly decorated with sculptures and colourful furniture. Recently included real ale in its portfolio of drinks. Quiz nights are held on Tuesday evenings from 8:30
Old Buoy
Park Inn Hotel
Prince of Wales
Pullman

7-9 Church Street, Folkestone, CT20 1SE
(01303) 488966
thepullmanfolkestone.com


A smart and comfortable pub with a secluded patio area ideal for al fresco dining on fine days in a side street of the town shopping area.The pub usually has four draught ales with one from a Kentish brewer. Well worth seeking out to esca...
Radnor Arms

Christchurch Road, Folkestone, CT20 2SX
(01303) 254435
radnorarmsfolkestone.co.uk/


Previously the Happy Frenchman the pub has been significantly upgraded by Rambleinns to become a food-oriented establishment but selling draught Kentish beers and Ciders. There are several areas to eat and drink plus a separate drinking ar...
Raglan
Railway Bell
Red Cow
Richmond Tavern
Rocksalt Bar & Restaurant

4-5 Fishmarket, Folkestone, CT19 6AA
(01303) 212070
rocksaltfolkestone.co.uk


A stylish restaurant with separate bar on the upper floor which serves one beer on hand pump. Meals are served in the restaurant downstairs and snacks or drinks in the upstairs bar with even better views of the harbour. The bar can close e...
Royal Cheriton
Royal Standard
Samuel Peto

23 Rendezvous Street, Baptist Galleries, Folkestone, CT20 1EY
(01303) 251154
jdwetherspoon.com/pubs/all-pubs/england/...


This unique Wetherspoon's pub is named after Samuel Morton Peto (later Sir Samuel), a great railway engineer and builder of Nelson's column, who funded this building as a Baptist church in 1874 The former Baptist Church contained a very fi...
Ship Inn
Thistle & Shamrock
Three Mackerel
Valiant Sailor

New Dover Road, Capel-le-Ferne, CT18 7JJ
(01303) 250737
thevaliantsailor.co.uk/


Built in 1782 this popular local pub at the top of Dover Hill on the outskirts of Folkestone and the North Downs Way and adjacent to the Battle of Britain memorial. The pub is convenient for the port of Dover with accommodation for motor h...
Victoria

106-108 Risborough Lane, Folkestone, CT20 3LL
(01303) 277347


Victoria, Folkestone
View Restaurant & Bar
Ward's Hotel

39 Earls Avenue, Folkestone, CT20 2HB
(01303) 245166
wardshotel.net/


A small family run hotel in a quiet area of Folkestone convenient for the Channel Tunnel and Car Ferries from Dover for a break in Folkestone to explore the Kentish countryside.s.the seaside. There are comprehensive and conference facilit...